Rhinoplasty in Belgium : when is this Reconstructive procedure indicated ?
Designed to correct the appearance of the nose, rhinoplasty is a fairly common surgery in Belgium. The team of the MaClinic facial surgery practice, located in Brussels, reveals to you in which cases this operation can be considered as a solution to improve the esthetics of the face or to repair functional difficulties.

What is the goal of rhinoplasty?
Rhinoplasty is a surgical treatment that makes a person's nose look better and helps them feel better about themselves and their image. Through this operation, the surgeon's objective is to make the face of his patient look more harmonious. Nasal reconstruction is successful if it is impossible to detect intervention. It also offers to improve the comfort of life of some patients whose nasal abnormality causes respiratory dysfunction.

When to consider aesthetic surgery of the nose?

Several reasons might push you to get your nose back:

    – Its appearance that does not please you or an ugly bump that you wish to see disappear;
    – Congenital malformation such as cleft lip, cleft lip, etc. ;
    – Trauma following a fall, a road accident, a punch, a sports incident, etc.

Nasal reconstruction is not only aesthetic. It can be restorative in certain cases such as that of a malformation or major deformation that causes functional difficulties and therefore respiratory.
Rhinoplasty: who can benefit?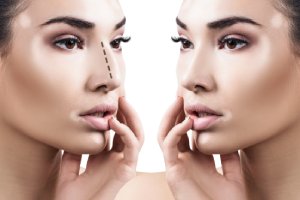 You can have your nose operated at any age after 17 years. Indeed, it is best to wait until growth stops before embarking on nasal surgery. Note also that after 60 years, rhinoplasty is often combined with a face lift to counteract the fall of the tip of the nose due to skin aging.

This aesthetic operation is suitable for both men and women. However, the process of changing the appearance of one's nose and consequently one's face must be personal and begins without the influence of outsiders. It concerns your body and your image. The decision is yours.

Do you want to get your nose back in Belgium?
MaClinic is the home of Dr. Marwan Abboud, a specialist in plastic, reconstructive and aesthetic surgery. He is an expert in the field of nose surgery. To make an appointment for a consultation or to obtain more information on rhinoplasty or another of our medico-aesthetic treatments, do not hesitate to contact our team by phone or by filling out our online form.