Dr. Abboud, lifting expert
Lifting imparts radiance and rejuvenation to the face. Facial expression does not change; one remains oneself and is recognizable! It involves a remodeling of the neck and face as it reshapes both deep and superficial structures.
Skin, fat, muscle, and bone quality is determined by heredity. To this factor one must add harmful external factors, such as smoking, alcohol, stress, exposure to UV rays, skin stretching, and sickness.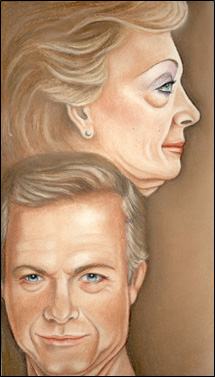 The face ages and becomes marked by different types of wrinkles:
Expression wrinkles: repeated contraction of muscles (wrinkles on the forehead, around the mouth, crow's feet at the outer corner of the eye).
Gravitational folds: the face starts to sag.
Orthostatic wrinkles: the skin of the neck develops more and more folds.
As it ages, skin loses its elasticity; facial muscles, their tonicity, and bones undergo resorption and thin out.
Patients desiring durable results must turn to surgery.
The indication will be assessed in the course of the consultations with the plastic surgeon.
What are the different types of lifting?
Neck and face lifting is the intervention of choice for the neck and cheeks.
It can be subdivided into two subtypes:


Anterior lifting, which improves the cheeks and the nasolabial folds.
Posterior lifting, which improves the neck.
Frontal lifting is the intervention of choice for drooping eyebrows.
Temporal lifting is the intervention of choice for horizontal wrinkles on the forehead.
These different types of lifting can be performed together or combined with other facial interventions: blepharoplasty, septorhinoplasty, liposuction of the neck.
It can also be useful to combine it with small auto-fat injections in order to augment the volume of the face: cheekbones, cheeks, and temples.
Every patient benefits from a treatment adapted to his/her needs within the limits of the practicable. Certain wrinkles will not disappear completely but may be improved by means of other methods (injections, facial peels, laser…).
Lifting is performed both on women and on men.
This type of surgery is not a permanent remedy against aging.
The result becomes final between the sixth month and the first year following the operation. The swelling of the face is normal and fades progressively, disappearing completely six months after the operation.