L'entretien du visage et du corps est une discipline régulière et rigoureuse.  Il est important d'oxygéner, hydrater et nourrir sa peau.

Le peeling, le mésolift et la dermostructure sont les 3 principaux traitements pour lutter et prévenir efficacement contre le vieillissement de la peau et garder une peau jeune plus longtemps.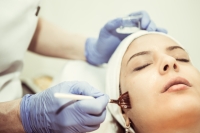 The peel is very effective to improve and accelerate skin renewal by exfoliating the superficial layers.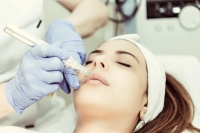 The mesoroller allows superficial skin micro-perforations through the smooth and regular passage of a device specially designed for this purpose.
Request a private consultation
RÈGLE D'OR :
LE SECRET D'UN TRAITEMENT EFFICACE, C'EST SA RÉGULARITÉ

OXYGÉNER PAR LE PEELING,
HYDRATER PAR LE MÉSOLIFT
NOURRIR PAR LA DERMOSTRUCTURE
Un conseil pratique et indispensable pour la bonne continuité des traitements est de bien respecter quelques règles :
Nettoyage et démaquillage complet le matin et le soir avec une  solution micellaire
Application d'un sérum à base de vitamine C avant l'application de la crème hydratante