Dr. Abboud, gynecomastia expert
This term designates hypertrophy of the mammary gland of male subjects, both adolescent and adult.
In the case of adolescents, it can occur from age 14 and persist from 2 to 5 years in very rare cases. Gynecomastia is, in general, transitory. If it persists, a full medical examination of the case must be carried out before surgery is considered.
In the case of adults, it can occur at around age 50, and medical causes must be ruled out before considering a surgical intervention.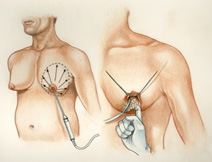 In the presence of a hormonal problem, a simple and specific medical treatment can help to do away with it. In cases for which no cause is found, it is plastic surgery that allows definitive correction of gynecomastia and the attainment of a harmonious chest. For patients whose deformation is both visible and palpable, a mammography is sometimes useful in order to determine the proportion of glandular tissue and the proportion of fat.
The surgical technique
There are two surgical methods to treat gynecomastia:
–    If the breast is fatty, liposuction is indicated: a cannula is introduced through small incisions of a few millimeters.
–    If the breast is glandular, a resection is indicated: the mammary gland has a firmer consistency and requires surgical removal. The scar is positioned at the inferior part of the areola or in the inframammary fold.
When there is a severe case of gynecomastia, it is sometimes necessary to remove a segment of the skin. The scar will consequently be larger.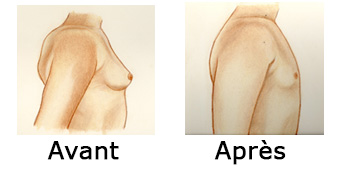 The prognosis for this intervention is excellent.
The development of a new gynecomastia is rare.