All you need to know about breast reduction in Belgium
Having a very large breast can lead to health problems, as well as physical and moral inconvenience. A breast reduction can then be necessary or desired … But what awaits women who turn to surgery? What results can be expected and for what price? We answer all your questions in this article.
Breast reduction, how does it work?
Breast reduction occurs in cases of breast hypertrophy. But what does this term hide? A reality often difficult to live for women. It is due to excessive development of the mammary gland and associated fat. This causes the development of large breasts. This concerns women both at puberty and after pregnancy and can cause physical pain. Indeed, women often suffer from sore shoulders, back pain, difficulty breathing, etc. In addition, breast hypertrophy can cause a negative self-image, sometimes resulting in significant psychological disorders.
To solve this, breast reduction is a restorative surgery that involves changing the shape, size, height and shape of the breast. The vast majority of women who went through this surgery came out very satisfied.
Outstanding results
The technique used for the procedure is specific to the surgeon and the case of each patient, depending on its morphology. This will be determined during an appointment and its specificities will be described. Know that Dr. Abboud specializes in breast reduction and practices extremely well the technique of liposuction, which leaves a minimum of scars.
The scars related to breast reduction remain a major problem for this intervention, but currently, the evolution of the techniques has made it possible to reduce the final scars as much as possible. Depending on the technique used, the scars will be located in different places. Here are some diagrams before after results obtained by surgery: 
On the periphery of the areola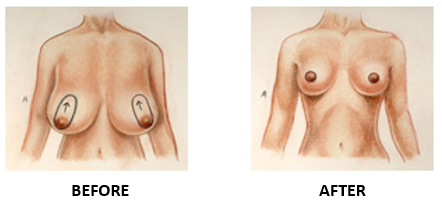 On the periphery of the areola and with a short vertical mark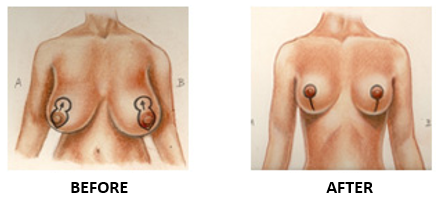 On the periphery of the areola, vertical, and inframammary (anchor)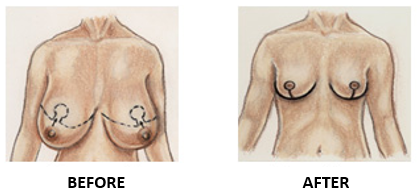 After the procedure, you must count 3 weeks during which the breasts will be bruised and two months of constant wearing of a bra, including during the night. The result is definitive from the sixth month with a long-term evolution. If a correction is necessary, it can be realized 6 months after the intervention. Perfect symmetry is very difficult to obtain, but is not the natural norm anyway. The sensitivity of the breast is restored after 6 to 12 months.
In order to reduce the size of the scar and the complication rate, Dr. Marwan Abboud developped 10 years a new technique called P.A.L.M. (Power Assisted Liposuction Mammoplasty). This technique has been published in the Aesthetic Surgery Journal in 2015, and presented in many international congresses.
A technique without scar 
Good news ! In recent years, it is possible to obtain results without scar. Dr. Abboud, a plastic surgeon, has developed a technique that has revolutionized women's lives. By using an internal thread and injecting fat, no need to open the breast! This allows the surgeon to achieve results just as beautiful, and without scarring.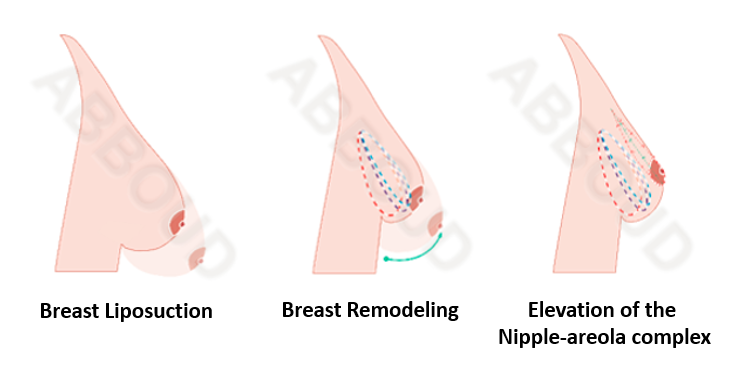 This innovation is currently being published and presented in worldwide congresses. Indeed, Dr. Abboud has been invited and continues to be being invited to multiple international congresses (to the International Society of Plastic Surgery in Miami, European Society of Plastic Surgery in Madrid, French Society of Plastic surgery in Paris, Belgian Society of Plastic Surgery in Brussels,…) to talk about this unique scarless surgery.
Rates and possible refunds
If the price of the breast reduction makes you hesitate, know that the mutual can take care of part of the intervention. Indeed, breast reduction is classified in reconstructive surgery. This implies that the intervention can be reimbursed by the mutual under the following conditions: it must withdraw 300gr minimum per breast and have the authorization of the medical adviser of the mutual.
MaClinic offers a quality service 
Would you like to have a breast reduction in Belgium ?
Dr. Abboud is a recognized plastic surgeon and expert in breast reduction and will find the best solution adapted to your case. His work and innovations in terms of breast reduction are presented worldwide (St. Petersburg, Miami, Brussels and Paris), because he is a pioneer in this field and achieves extraordinary results. If you wish to make an appointment for a consultation or simply to have additional information or to know our tariffs, contact us without further delay via this form.